Waste water treatment
The range of wastewater pumps can be supplied in several versions : submersible, vertical shaft, horizontal and dry well.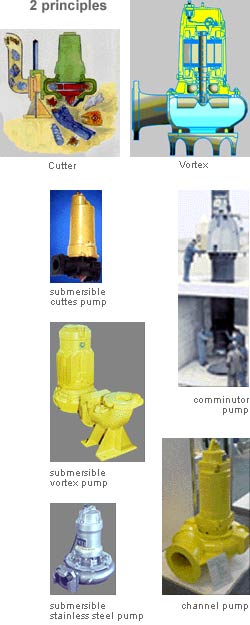 A variety of pump types is available eg. cutter pumps, grinder pumps, high efficiency "vortex" pumps, channel pumps and axial flow pumps.
With its cutter pumps and high efficiency vortex pumps the Bodin group occupies a specialist niche on the wastewater market. As the first independent French manufacturer, it designs and manufactures its own submersible pump motors.
Depending on the model and application, the pumps are variously constructed in cast iron, stainless steel or bronze. Submersible pumps are available with or without auto-coupling pedestal. We also offer pumps ready installed in prefabricated package pumping stations equipped with one or more pumps.
The main functions are wastewater or rainwater drainage, pumping or drinking water and heavy loaded water transfer.
These pumps fulfil industry requirements for the pumping of food processing wastewater and effluent.

They are used by local authorities for sewage and rainwater pumping and in WWTPs.

Wastewater and rainwater for domestic use.
---